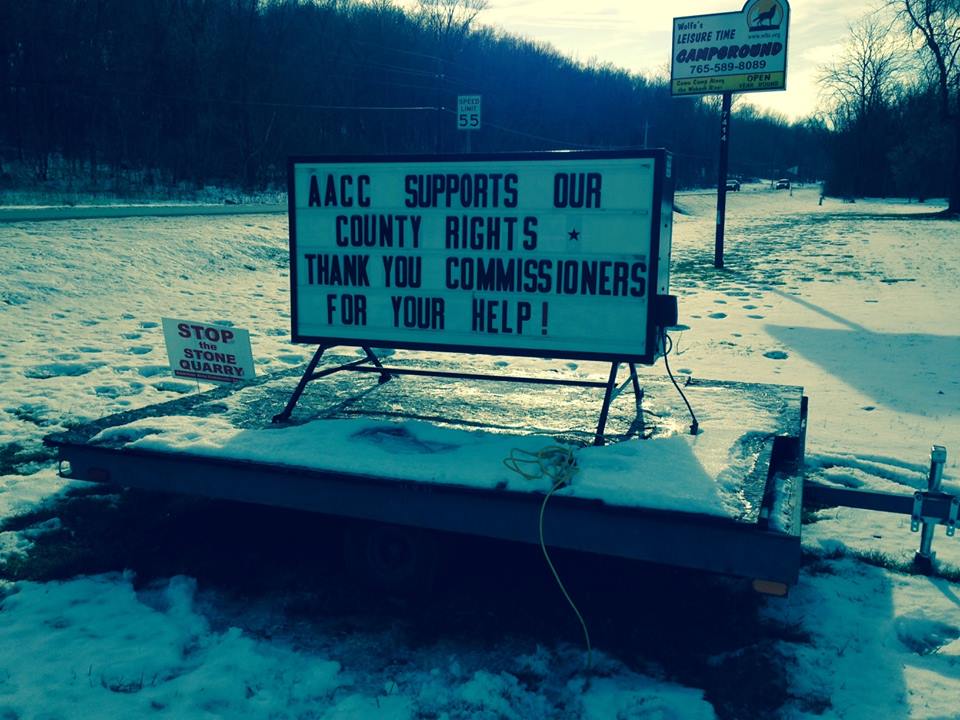 Write a letter showing your support today!
This is a call from the Americus Area Community Coalition to the public to show your support to our Tippecanoe County Commissioners.
At the January 15, AACC public meeting it was requested that each of us write a letter to our county commissioners showing our support of their efforts to stop the Rogers Group from putting the stone quarry in Americus.
Ordinance 2014-08-CM Prohibition of Quarries in Residential Areas passed 2 to 0 on the Second Reading at the 7/07/14 Commissioners' Meeting.  Now Tippecanoe County is being sued by the Rogers Group in an effort to side step the Board of Zoning Appeals process. They are attempting to put the stone quarry in Americus against the will of the people.
Following are the names of the tippecanoe county commissioners and their contact information. Feel free to write each commissioner regardless of their district.
Email Addresses
Tracy Brown – District 1
email address: tabrown@tippecanoe.in.gov
David Byers – District 2
email address: dbyers@tippecanoe.in.gov
Tom Murtaugh – District 3
email address: tmurtaugh@tippecanoe.in.gov
There is also a common email address that all the commissioners access. This email address is: commissioners@tippecanoe.in.gov.
Mailing address
20 N 3rd St
Lafayette, IN 4790
Phone and Fax
Phone: (765) 423-9215
Fax: (765) 423-9196
If you send your letter of support by email please send it to all the commissioners. Let's encourage them, show our appreciation and let them know the AACC supports their efforts.
Thank you and best regards,
Americus Area Community Coalition
photo credit: Dale Wolfe, Wolfe's Leisure Time Campground