Hello Friends of the AACC!
Be sure to attend the Americus Area Community Coalition Public Meeting this Thursday night, March 20, at 7pm.
The meeting will be held at Wolfe's Leisure Time Campground in Americus located on Old State Road 25 North. The next 3 months are critical as we prepare for the Board of Zoning Appeals hearing scheduled for June 25. We need everyone's help to stop the stone quarry!

Special Agenda Items for Thursday's Public Meeting:
Guests:

Roland Winger(District 4 County Councilman)
Pastor Terry Brammer
Kevin Schnepp

A Presentation from the Educational Committee

Water, Wells, and Flooding: Know Your Rights
New and Noteworthy:
The AACC has a new website. You can check it out at www.americusacc.com.
Also, we have a billboard located near the intersection of Old State Road 25 and State Road 225. It looks great! The marketing campaign to get the message out to the community is in overdrive!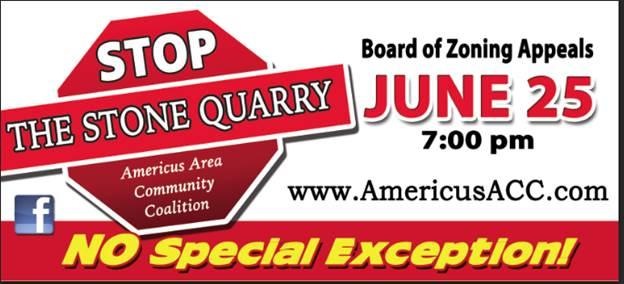 Upcoming Events
Public AACC Meetings
March 20, 7pm
Wolfe's Leisure Time Campground
April 24, 7pm
Wolfe's Leisure Time Campground
Other Meetings
June 25, 7pm
Board of Zoning Appeals Hearing
April 2, 10am
Drainage Board
County Office Building
April 5, 8am
Third House
Delphi VFW
April 8, 8:30am
County Council
April 16, 7pm
Area Plan Commission
April 21, 10am
County Commissioners
….Though one may be overpowered, two can defend themselves. A cord of three strands is not quickly broken…..